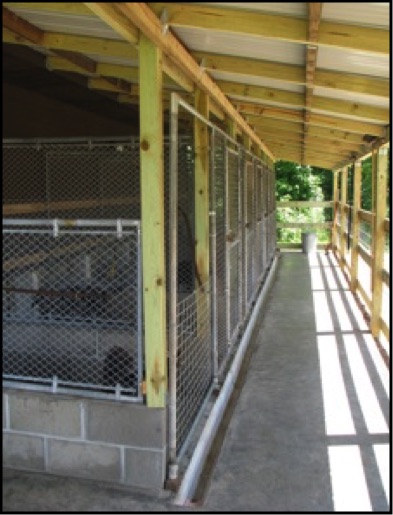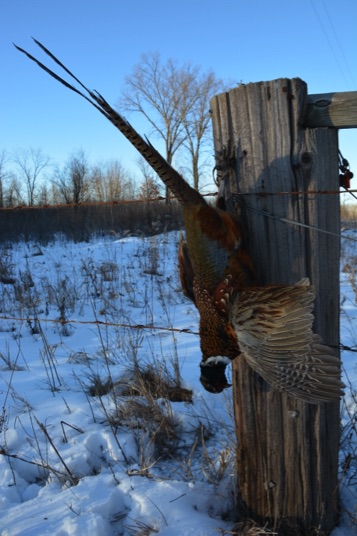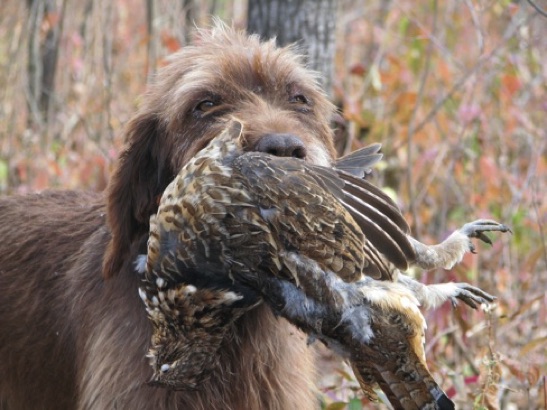 Rock Creek Kennel is located one hour north of the Twin Cities near the remote St. Croix River. Adjacent to our grounds are numerous ponds and marshes that conform to NAVHDA Utility duck search waters as well as various large fields for developing and training upland field work. We specialize in the training and testing of all versatile breeds that are recognized by NAVHDA.
Hunting dogs truly enrich all of our hunting experiences and most will tell you the only reason they hunt is to watch the dogs work.
Unfortunately, all too often, most dogs are not provided the oppurtunity to develop hunting skills. They lack an understanding of the relationship between birds, gun, and owner. They are never given the chance, or have been exposed to negative experiences, to reach their potential and realize their purpose in the field.
What was to be a memorable day in the field often ends with a frustrated owner and dog that will not hunt, flees at the sound of gunfire, or runs wildly out of control in the field or marsh.
Rock Creek Kennel has the experience to address all of your training needs and can help develop a program tailored to meet your specific needs and goals for you and your hunting companion.
We would like nothing more than to guarantee that if your dog is trained here, the dog will become a Prize 1 Utility dog or a Versatile Champion. Like people, all dogs are different, as are their capabilities, and that would not be truthful or realistic. What we do guarentee is that the same passion, effort, hard work, training techniques, experience, and care will be afforded to your dog as if it was one of our own. We will be honest and truthful with all of our evaluations and expectations of your dog.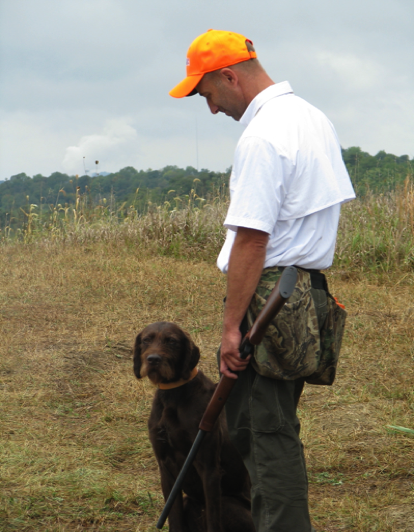 Scott retired from the police force after 27 years of service during which time he held the position as a K9 handler for ten years and served as the head trainer for the Department K-9 unit. He retired to focus on his true passion of training hunting dogs.
We have belonged to NAVHDA since 1994 and have tested over 90 different dogs in NAVHDA Natural Ability, Utility Preparatory, Utility Tests, and the Invitational. We have also assisted numerous owners in the training of their dogs and preparing them to successfully handle their dogs in a variety of tests, trials, and in the field or marsh.
   We have owned, trained, or handled flushing dogs, retrievers, pointing dogs, hounds, terriers, obedience dogs, K-9 apprehension, detection, and man tracking blood hounds.
Our heated indoor-outdoor kennel is clean, dry, and cool, keeping your dog comfortable and safe during its stay. The kennel area is contained in a large dog yard where your dog can spend down time while taking a break from training.
We have a heated indoor training area with a 16 foot training bench to work on obedience and the trained retrieve when weather does not cooperate.
Having owned and trained a vast number of hunting and working dogs, and having worked the streets as a Police K9 handler for 10 years, we have the experience to deal with canine emergencies and have a vast knowledge of health care and hazard issues. Vet service is close to our kennel.
Puppy Training and Training to the NAVHDA
Natural Ability Standard: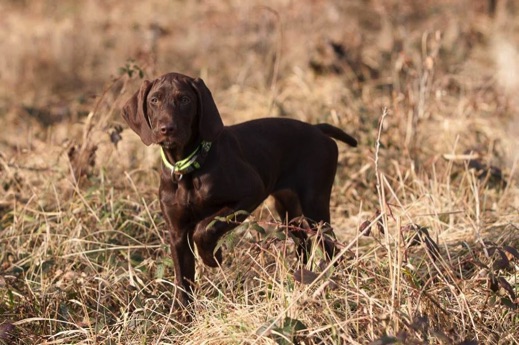 Our site makes it obvious that we are fans of NAVHDA. What is appealing about the NAVHDA system is that if you are training to prepare a dog for a Natural Ability test or a Utility test, you are doing everything you need to prepare the dog for hunting.
This is why we train to those standards and use NAVHDA goals as a bench mark for our training program.
Puppy training, up until roughly 16 months of age, can include introduction to birds, gunfire, basic obedience, pointing, water, and field work. Our inclusive course covering all these important areas is roughly 4 to 6 weeks long in which the pup will stay with us and train every day. Pups that go through this course will be well prepared for a Natural Ability test and their first hunting season. We do finish beyond the Natural Ability standard as many of the pups leave steady to flush on training birds. Keep in mind that this is not a strict obedience based program. The focus is to awaken and develop your pups desire and inherent abilities through proper exposure and training techniques.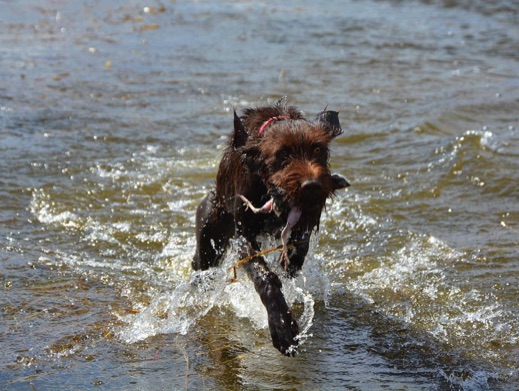 Proper timing and the right approach to introducing your pup to birds and gunfire start before pointing and field work, which soon follows.
Keeping your pup joyful in the field and water and building desire is always stressed.
We only train four dogs at any given time. Please call for more information about training and training prices for your young pup.
Advanced and training to the NAVHDA Utility Standard:
Very few people have had the pleasure of owning, and the joy of hunting, behind a truly finished gundog. When you train towards the NAVHDA Utility test, that is your end goal. This training is reserved for dogs that have finished their Natural Ability work and are generally on their way to adulthood.
These are the dogs that are completely under control in the field and marsh. They are steady in the blind, over birds, and show a great deal of cooperation in hunting for the gun.
Well mannered dogs that retrieve to hand and are obedient under all circumstances is their signature.
The training can be lengthy but is well worth the investment if you want more than just a meat dog.
Advanced training can include advanced obedience, whistle work, steady to shot and fall, stop to flush and shot, backing, the trained retrieve, and duck searches.
We can tailor your advanced training to fit your specific needs, or, we can train your dog through the entire process. Our full program is generally approached in stages, given your pup has been properly exposed through the first stage of the natural ability training. The dog would then advance to a time frame for whoa training and the trained retrieve. Once the dog has reach those goals, it is then all tied together to complete the utility aspects of a NAVHDA test.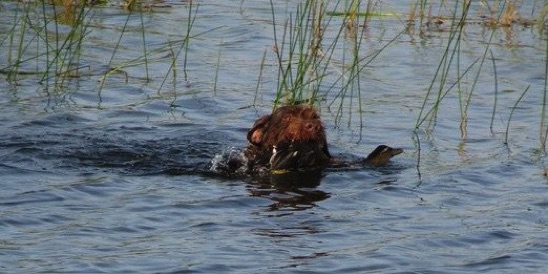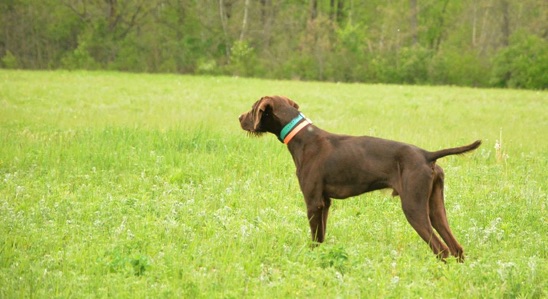 Quality water locations and healthy fowl are essential for duck search training and water retrieves. We have access to numerous areas that qualify as excellent duck search water.
We use an abundance of healthy flight conditioned birds for all of our field work. Again, we have numerous training sites so dogs do not become place or site compliant.
A dog can still pass tests and perform what is required even if it becomes druggery and no longer enjoys the hunt. But a dog that retains it's joyfullness is a pleasure and spectacle to watch. We always strive to maintain that joyful spirit.
Please call for more infomation on all of our training plans and prices.