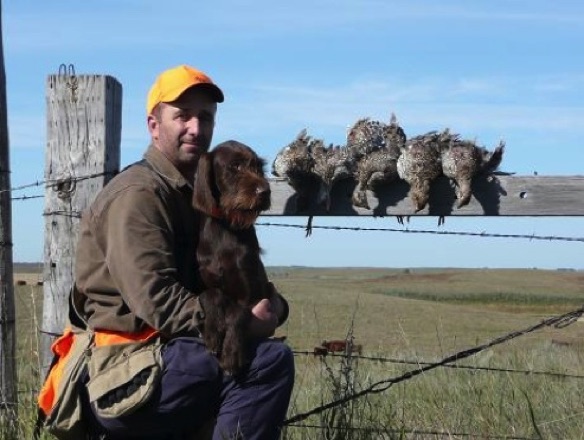 Please read all of the FAQ's prior to contacting us. Thank you.
At Rock Creek, we breed hunting dogs. We do not sell pets. We do not sell to non-hunting families or as suprise gifts for the hunter in the family. We ask that the individual who will be hunting the dog contact us.
Since we get such a high volume of calls and e-mails regarding our pups and the dogs in general, it is our hope that we can spend more time in the field and less time addressing these very general questions by posting answers to FAQ's. We would much prefer to discuss where, what, and how much you hunt, your desire to join NAVHDA, your current and past experience with versatile dogs, your time frame for a pup, and our waiting list protocol.
We apologize, but we are a family run kennel and we do not schedule planned visits for those who are curious about the breed and we never allow the "we were in the area" visits. Ideally, this site, as well as other sites, visits to local NAVHDA events, and referrals will help with your research. Then, by the time you contact us, you will have decided that a pudelpointer is right for you and your family.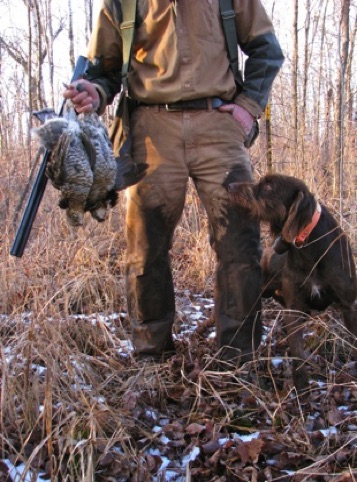 Are they hypo allergenic?
       I refrain from saying they are hypo allergenic, as no one in our family has allergies to gauge that claim. We have had countless individuals with allergies spend time with our dogs and have reported no effects. 
What colors are pudelpointers?
        Colors can range from light fawn to black. Patches of white on the chest and feet are common. Anyone who makes the claim that a certain color within that range is highly rare, highly desirable, or elevates the value of the dog, is very mistaken and should be avoided.
What is the life expectancy?
An average life expectancy for a pudelpointer is roughly 12 years. Keep in mind that with all animals that can vary on either side of that number. Pictured is one of our females, Echo, who, at the time the picture was taken, was 12 years old and she is still built and runs like a young dog, although for not nearly as long on each outing. I would expect she will be hunting at 13 years.
Do they have any inherent health issues?
         No reoccurring inherent health issues are know to affect pudelpointers.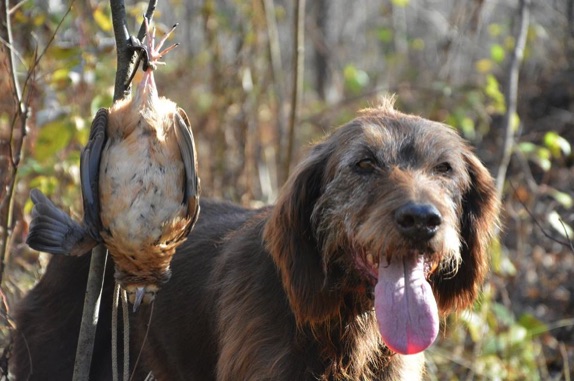 Do they need a lot of exercise?
      The harder you run and exercise your dog, the longer he will hunt for you. If you do nothing to condition your dog, then your day in the field will be much shorter. Do they get destructive if they don't get exercise? No, they get out of shape. We would hope with the investment you make and the desire to have a quality hunting dog, that you would would ensure that they are in excellent physical condition and fed properly.
Will pudelpointers retrieve waterfowl?
        Yes. Pudelpointers are excellent dogs for waterfowl. If you hunt ducks or geese in the field or over water, early or late season, you will find that pudelpointers will fulfill all your retrieving needs.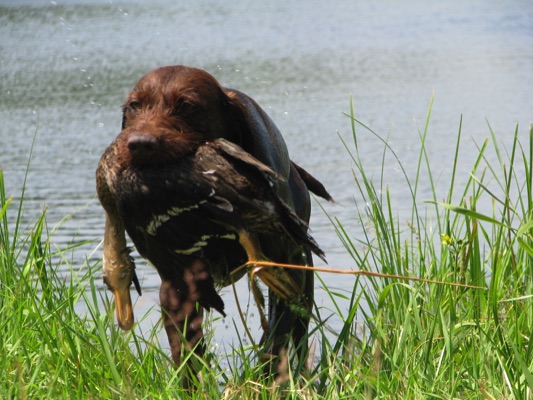 Will pudelpointers work in all terrain and handle all species of game birds?
        You can find pudelpointers from Alaska to Florida, Maine to Arizona, and every state in
between across all of North America hunting the game birds particular to those areas.
Can pudelpointers be used to hunt for deer sheds and for blood tracking?
  Yes. I also believe that many breeds can be trained to retrieve sheds. Even non-sporting dogs can be used to hunt for sheds if they have a high ball drive. Pudelpointers can also be trained for blood tracking.
I do not train for sheds, but my dogs will occasionally bring back a shed to me and quite often other treasures. Much of this has to do with the cooperative nature of pudelpointers and because they have been through the forced retrieve.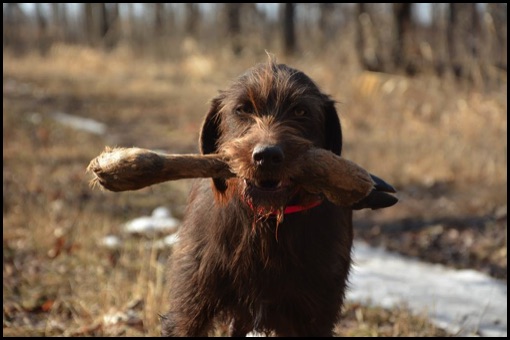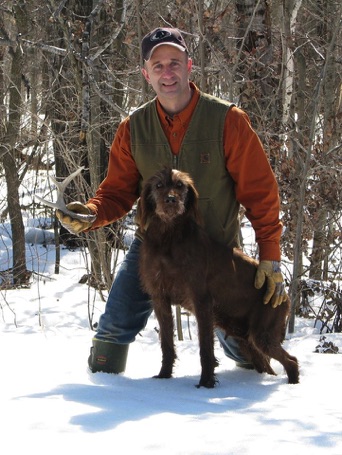 Do they make good house dogs or good kennel dogs?
        Pudelpointers are comfortable in the home or in the kennel. Ask anyone who
owns one and they will tell you that they are not hyper dogs. They will tell you that pudelpointers have an uncanny ability to turn off the switch when not hunting.
Are they good around kids and other dogs?
        Having trained and handled police K-9's for ten years and being very familiar with canine aggression, I can tell you that our pudelpointers show no aggression towards people or other dogs. If you own another dog, the right question may be to yourself, "Will my dog get along with a new pup?" I cannot answer that question for you.
Are they good in cold or hot weather?
       We have run our pudelpointers on the dog sled in -20 F.  We have hunted
sharptail in North Dakota in 90 F. Yes, they do well in cold and hot weather. Much of that is determined by what kind of shape your dog is in also.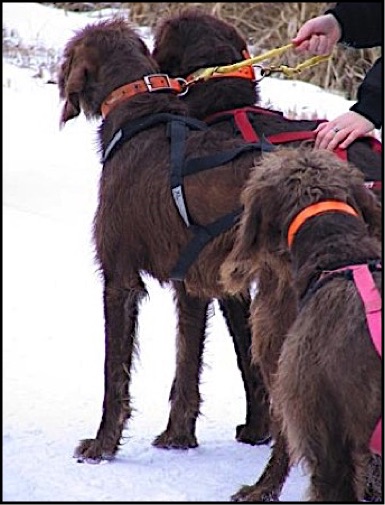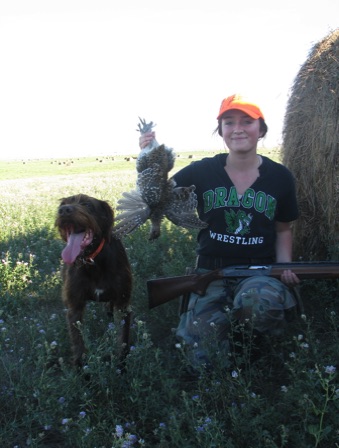 Do pudelpointer coats require maintainace and do they shed?
Harsh, wire coats tend to repel most stickers except for what we call green beggars lice, which no dog is impervious to, and stickers under the chin. We do very little with coat maintainance other than some light stripping in the spring, which is removing dead hair by pulling it out with your thumb and fore finger because it tends not to fall out on its own. They shed very little, if not at all. Pudelpointers are very clean and are not oily. We rarely give our dogs a traditional bath with soap and suds, unless they are coming inside the house after a day like the below picture with knee deep mud. Then the General requires it.
How big are pudelpointers as adults?
Pudelpointers are typically between 23" and 26" and weigh roughly 45 to 65 pounds.
Do coats differ?
Yes, coats can be smooth and slick to heavy and wooly. The ideal coat is dense and harsh or wiry. We have been very fortunate with our coats in that the majority of our dogs at adulthood have nearly ideal coats with furnishings, which is the characteristic beard and eyebrows of wirehaired breeds. Keep in mind that you cannot custom order a specific coat type. If you view the pictures of our dogs on this site, you will see some of the differences in coats. Below is one of our dogs with a very typical coat from our kennel and it is what we would consider ideal.
Are pudelpointers difficult to train?
If you have only trained and hunted with flushing dogs, labs for instance, you have to understand that other than blanket principles, such as negative and positive rienforcement, that all dogs respond to in a similar fashion, there is very little in common between the hunting style and training approach between a lab and a versatile or pointing dog. This is why, especially for first time versatile owners, NAVHDA is a must. Pudelpointers are very bidable dogs. All four of my children raised, trained, and tested their own pups from the age of 12 to 15 years old. I think that speaks volumes to the trainability of our dogs.
Answers to some of your general pudelpointer questions:
Is a pudelpointer right for me and my family?
That is a question I cannot answer for you.